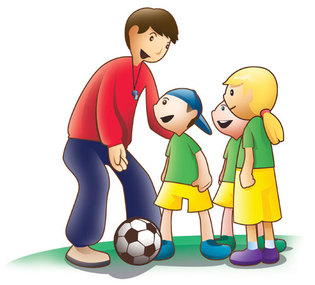 Thank you!

You're decision to take on this responsibility will help the youth players of Northbridge develop their skills, foster new and lasting friendships, gain respect for the game of soccer, their opponents and the Laws of the Game.

You're not alone in this endeavor. The NYSA board is here to help you throughout the year with whatever you feel you may need. Do not hesitate to ask!

Good luck, play well and most importantly, enjoy!



---
CONCUSSION TRAINING

RESOURCES from the United States Youth Soccer Assn.


U6 and U8


Below is the United States Youth Soccer Association's guide to U6
(Pee-Wee) and U8 practice plans. An excellent resource to help you design your weekly practice sessions. Pay close attention to the characteristics of players at this age level (listed in the beginning of the publication)
By understanding the limits of the youth player at this level, you will be able to coach to that level and therefore develop them at the appropriate pace.


U10


Available below is the United States Youth Soccer Association's guide to U10 practice plans. Again, pay close attention to the characteristics if the U10 player. This will allow you as the coach to tailor your sessions to their physical and psychological limitations.


U12


The USYSA guide to U12 practice plans is below. As in the earlier age groups, importance on the physical and psychological limitations is paramount. Obviously at this age level some players will develop faster than others. You must resist in those cases of trying to push the other players on your squad to "catch up" to the faster developing player(s).


Small Sided Games


Why Small-Sided Games?
US Youth Soccer has thought long and hard about the answer to the question, "Why Small-Sided Games?"

What does "Small-Sided Games" mean? These are soccer games with fewer players competing on a smaller sized field. These are fun games that involve the players more because fewer players are sharing one ball.

All ages can play "Small Sided Games", but it has a definite developmental impact on our younger soccer players. US Youth Soccer recommendations for "number of players" at the various age groups are as follows:

U6 | 3 against 3 no goal keepers
U8 | 4 against 4 no goal keepers
U10 | 6 against 6 with goal keepers
U12 | 8 against 8 with goal keepers
U13+ | 11 against 11 with goal keepers

Here are some of the reasons why we believe, as soccer coaches, administrators and parents must guarantee that our young soccer players play small-sided games:

1. Because we want our young soccer players to touch the soccer ball more often and become more skillful with it! (Individual technical development)

2. Because we want our young soccer players to make more, less-complicated decisions during the game! (Tactical development)

3. Because we want our young soccer players to be more physically efficient in the field space they are playing in! (Reduced field size)

4. Because we want our young soccer players to have more individual teaching time with the coach! Fewer players on the field and fewer players on the team will guarantee this! (Need to feel worthy and need to feel important)

5. Because we want our young soccer players to have more, involved playing time in the game! (More opportunity to solve problems that only the game presents)

6. Because we want our young soccer players to have more opportunity to play on both sides of the ball! (More exposure to attacking and defending situations)

7. Because we want our young soccer players to have more opportunities to score goals! (Pure excitement)

8. Because we want to include children of all temperaments, assertive to shy, to have more opportunities to interact with others and the game! (Socialization)

These are the reasons why we adults must foster "Small-Sided Games" in our youth soccer programs.

The "Small-Sided" environment is a developmentally appropriate environment for our young soccer players. It's a FUN environment that focuses on the young soccer player.

It just makes sense doesn't it?


RESOURCES from Massachusetts Youth Soccer


U6


U8


U10