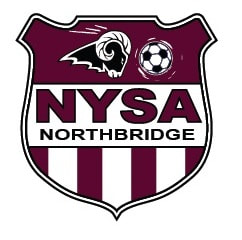 MISSION

The Northbridge Youth Soccer Association (NYSA) is dedicated to providing a fun, safe, healthy and competitive soccer environment in which the youth of Northbridge may participate in and develop their soccer skills, to learn proper attitudes towards competition and sportsmanship, to learn the values of teamwork and respect for the rules, self discipline, and the gaining of self confidence gained through trial and error.
2019 SPRING REGISTRATION
NOW OPEN!!!
The registration period for the 2019 Spring Season is as follows:

​Grade 2 and below - 11/1/2018 thru 03/31/2019
**Registration cost includes uniform kit for grades 2 and below***
**Your child will be issued a shirt, socks and shorts at his/her first team practice**
Grade 3 and above - 11/1/2018 thru 12/31/2018
**Registration cost does not include uniform cost for Grades 3 and above**
**You are responsible for ordering your child's uniform**

​​Please visit the Join/Registration page for more information.
Northbridge Youth Soccer is a member of the Midland Area Youth Soccer League (
MAYS
).

Northbridge Youth Soccer is a proud member of Massachusetts Youth Soccer.